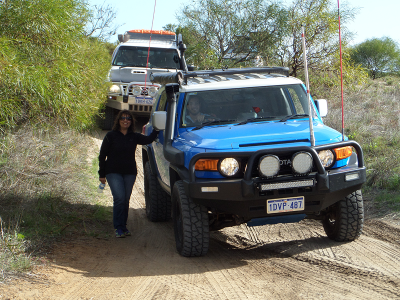 Date:
Saturday, 19 May 2018
08:30 AM
-
02:30 PM
Venue: Wilbinga Conservation Park Cleanup | City: Wilbinga, Australia
The Annual 2018 Wilbinga Conservation Park Cleanup.
The meeting Plan | What to bring | The Plan | Supportive Organsations
When: Saturday the 19th of May 2018.
Where: The Wilbinga Conservation Park.
DPaW Information such as Code of Conduct, Health and Safety and a letter to the volunteers: Click here!
What elements will restrict outdoor recreational user access into the future?
Reduction of habitat of the Graceful Sun Moth and other animals to the area;
Rubbish left in the Park and not taken out;
Anti-social behavior - the larger community perception of what is considered anti-social behavour.
Objectives of the cleanup?
To maintain future access for outdoor sustainable recreational sensible activities;
Extract material that is not native to the Conservation Park;
Widen 4wd tracks where practical to reduce fire risk;
Demonstrate the new circumnavigation 4wd route of the park designed and implemented by the peak 4wd bodies;
Education - history of the area and of The Shacks and flora and fauna.
The meeting Plan | What to bring | The Plan | Supportive Organsations
Email
This email address is being protected from spambots. You need JavaScript enabled to view it.
Address
Wilbinga WA 6041, Australia

Geoff Couper

(1)



Andy mcleod

(1)



Carly Draper

(5)



Brayden Couper

(1)



Sofia Couper

(1)



Barry Callen

(16)



Andrew Davies

(2)



Mark

(2)



Steve

(2)



Mark Petruzio

(10)



Jacques Hugo

(2)



Caleb knight

(1)



Kevin Richards

(1)



Cory marland

(1)



campingwa

(1)



Ben Pitham

(4)



Robert Milstead

(5)